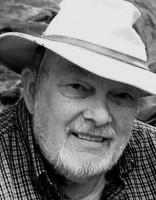 After many years as a successful sculptor of monumental and limited-edition sculptures, Vic Riesau has returned to the easel with a passion. He brings to collectors a selection of paintings with a wide range of subjects. His art comes from an understanding that there is universal truth in nature. Through skillful use of light and color, his paintings conjure an impression of the season.
Riesau's fondness for the outdoors comes naturally. He spent many summers in the Eastern Sierra, which was also frequented by many of the early California artists such as Edgar Payne. He frequently paints his other favorite subjects: the Southwest and the Pacific Coast.
Riesau's work is in the collections of the Autry Museum of the American West in Los Angeles, California; the Emigrant Museum at the Donner State Park in Truckee, California; and the Carnegie Museum in Oxnard, California. He exhibited as one of the founding artists of the Autry Museum's Masters of the American West during its first nine years. As a member of its organizing committee, he brought to the Autry's Masters family organizational and management skills that were valuable in the development of the show. He was instrumental in enticing John Geraghty to come to the Autry as a Masters special advisor, and he aided John in encouraging highly regarded artists from the Cowboy Artists of America and other prestigious shows to participate. He returns to the show this year as a special Guest Artist.
Riesau is a Signature Member and serves as a board member of the California Art Club. He has won awards in both painting and sculpture at their annual exhibitions.
He is currently working on a series of paintings of the Great Depression of the 1930s, which he witnessed firsthand as a young boy. He has also written a popular book for artists and collectors, Challenges and Discoveries, based on his journals.
Vic Riesau is represented by Judith Hale Gallery, Solvang, California.
---
Back to Artists and Artwork