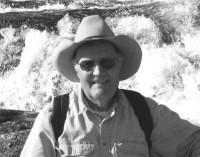 Tucker Smith was born in Minnesota and raised in Wyoming. He graduated from the University of Wyoming in 1963 with a BS in mathematics and a minor in art.
Smith lives on the Hoback Rim in western Wyoming, surrounded by wildlife and the mountain atmosphere that he enjoys. He prefers a variety of subject matter for his paintings, with most of his work depicting contemporary scenes that often include local wildlife, which he studies in great detail. He strives for accurate values and color, and puts great importance on a sense of place.
Tucker Smith is considered a master studio painter and is recognized as an accomplished plein-air artist. He spends much of his time in the backcountry with his fellow artists.
He has exhibited at most of the major art shows in the United States and has won numerous awards, including the prestigious Prix de West Purchase Award and the Robert M. Lougheed Memorial Award at the National Cowboy Hall of Fame's Prix de West Invitational Art Exhibition and Sale. In 2015 Smith was one of seven artists showcased in Woolaroc Museum and Wildlife Preserve's retrospective exhibition, The Best of the Best: Contemporary Wildlife Art. In 2014 he won the Jackson Hole Art Auction's Top Tier juried competition.
At the Autry Museum's 2013 Masters of the American West, Smith was given the John J. Geraghty Award, established by the Autry National Board of Trustees to recognize an individual for his or her advancement of contemporary art. At the 2012 and 2010 Masters, he received the Bob Kuhn Memorial Wildlife Award, Sponsored by Carl and Rosella Thorne, and at the 2009 Masters, he won both the James R. Parks Trustees' Purchase Award and the Bob Kuhn Memorial Wildlife Award, Sponsored by Carl and Rosella Thorne, for his painting Wyoming Sky. At the 2007 Masters, he received the Trustees' Purchase Award for Aspen Draw, and he received the Trustees' Purchase Award at the 2000 Masters for Plains Monarch. All three paintings now reside in the Autry's permanent collection.
Smith and his wife, Jean, have a wonderful home in Pinedale, Wyoming, which overlooks some of the most beautiful wilderness areas of the country.­
Tucker Smith is represented by Settlers West Galleries Inc., Tucson, Arizona; and Trailside Galleries, Jackson, Wyoming, and Scottsdale, Arizona.
---
Back to Artists and Artwork