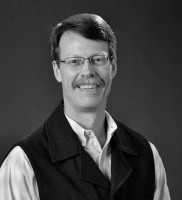 At an early age, Tim Shinabarger developed an obsession with wildlife and wild places. He took a few art classes while attending Eastern Montana College, where he received a BA in business, then furthered his art education by attending workshops by prominent artists and studying the works of past masters. Shinabarger also has a background in taxidermy, and in the past has worked as a guide, backcountry ranger, and forest firefighter.
Shinabarger makes regular pilgrimages into the wilderness to gather ideas for new works. Indeed, be it the Brooks Range in remotest Alaska, where he has spent weeks trailing grizzly bears and migrating caribou; the Wrangell Range, where he has ascended the rugged crags in search of Dall sheep; the red rock canyons of Utah, where he has plied the shadows in search of mule deer; or the vast greater Yellowstone ecosystem in his own back yard, where he has ambled after moose and majestic wapiti, his wanderings fail to quench an endless thirst for wildlife and wild places.
In 2019 Shinabarger won the Bob Kuhn Wildlife Award, Sponsored by Jodie and James Rea, at the Autry's Masters of the American West.. In 2017 his monumental sculpture Black Timber Bugler was installed at the C. M. Russell Museum in Great Falls, Montana; and In 2016 his monumental sculpture Great Northern was installed at the National Museum of Wildlife Art in Jackson Hole, Wyoming. In 2015 he was one of seven artists showcased in Woolaroc Museum and Wildlife Preserve's retrospective exhibition, The Best of the Best: Contemporary Wildlife Art. At the 2014 Prix de West, he won the Major General and Mrs. Donald D. Pittman Wildlife Award for his sculpture The Mountaineers. In 2011 he won the Colonel Richard H. "Red" Smith Artists' Choice Award at the National Museum of Wildlife Art's Western Visions Miniatures and More Show and Sale. 
His work has been featured in Art of the West, InformArt, Southwest Art, Western Art Collector, and Wildlife Art.
Tim Shinabarger is represented by Claggett/Rey Gallery, Vail, Colorado; Coeur d'Alene Galleries, Coeur d'Alene, Idaho; J. N. Bartfield Galleries, New York City; Legacy Gallery, Scottsdale, Arizona, Jackson, Wyoming, and Bozeman, Montana; Montana Trails Gallery, Bozeman, Montana; Wilcox Gallery, Jackson, Wyoming; and Wood River Fine Arts, Ketchum, Idaho.
---
Back to Artists and Artwork