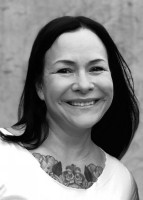 Tammy Garcia is a renowned Pueblo potter and sculptor whose work embodies both classic design and modern iconography. Her highly prized ceramic works encompass a progressive evolution of forms that range from traditional effigies, water jars, and storage jars to nontraditional and modernized asymmetrical shapes.
Throughout Garcia's artistic career, she has explored sweeping and breathtaking designs that are identifiable as time-honored beacons rising up across her work. Such designs incorporate ancient and historic Puebloan motifs, including elements of nature, bird abstractions, and bands of repeating feathers—at once recognizable yet composed in manners that defy convention. She also explores fresh design sets that are not exactly prescribed themes found on Pueblo pottery: scallop shells, skull and crossbones, graffiti lettering, and a diverse repertoire of Chinese imagery. Her unique ability to create highly refined ceramic works with such rare variety and depth remains the cornerstone of her success—earning her the reputation as one of the most collectible living Pueblo potters of our day.
Pushing beyond the limits of natural clay and the "vessel" form, Garcia also forges new and exciting paths in bronze and glass. Often referencing modernist aesthetic movements such as Art Deco and Bauhaus, Garcia has constructed a neo-Pueblo design vernacular that continually captures new beholders—as seen on twisting, totem-like, architectural forms that shoot up to the ceiling with high- and low-relief carvings reminiscent of her pottery.
Garcia's pottery and sculpture can be found in numerous public collections across the country, including the Smithsonian Institute's National Museum of the American Indian in Washington, D.C.; the Peabody Essex Museum in Salem, Massachusetts; the Rockwell Museum of Western Art in Corning, New York; and the Museum of Indian Arts and Culture in Santa Fe, New Mexico. In 2016 and 2012, she won the James R. Parks Trustees' Purchase Award at the Masters of the American West, and both of those winning sculptures are now in the Autry Museum of the American West's permanent collection. In 2008 she received the Governor's Award for Excellence in the Arts in the state of New Mexico.
Tammy Garcia is represented by Gallery Chaco, Albuquerque, New Mexico; and King Galleries, Scottsdale, Arizona, and Santa Fe, New Mexico.
---
Back to Artists and Artwork