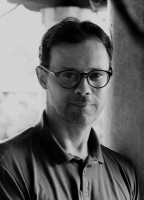 Scott Burdick was born in 1967 in Chicago, Illinois, where his mother and father early on encouraged his interest in art. 
In high school, Burdick began taking life-drawing classes at the American Academy of Art under the legendary Bill Parks. After finishing the Academy, Burdick continued his study informally with Richard Schmid at the Palette and Chisel Art Club, where he met his wife, painter Susan Lyon.
Burdick's many awards include the Collector's Choice at the 2015 Prix de West; First Place at the 2010 Portrait Society of America's International Portrait Competition; Best of Show and Award of Merit at the 2007, 2002, and 2001 Western Rendezvous of Art; and the Award of Excellence and Senator Martin J. Butler, Charles Vickery, and Grumbacher Art Awards from Oil Painters of America. He won International Artist magazine's Grand Prize in 2003 and the Artist's Choice Award at the 2003 and 1999 Laguna Plein Air Painting Invitational.
His ideas for paintings come from everywhere. "What makes a subject attractive to me are the same things that attract us all. The beauty of a young girl, the character of a weathered face, the solitude of a farm at sunset, or even the story behind someone or something that makes it interesting." Burdick believes it is an artist's job to recognize when this attraction happens, analyze why, and use their technical skills to convey the feeling to someone else. He notes that some paintings are as simple as stopping at the sight of something interesting, while others may take more time to research than to actually paint.
Today, Burdick and Lyon live in a rural area of North Carolina. Surrounded by forests and the foothills of the Appalachian Mountains, their house is a perfect resting place after the many trips they take throughout the world in search of subject matter to paint. His online educational videos are available through his website.
Scott Burdick is represented by Gallery 1261, Denver, Colorado; InSight Gallery, Fredericksburg, Texas; Maxwell Alexander Gallery, Los Angeles, California; Sage Creek Gallery, Santa Fe, New Mexico; and Wilcox Gallery, Jackson, 
---
Back to Artists and Artwork