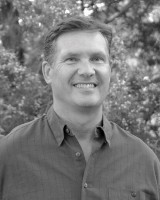 Robert Peters's career as a professional artist has spanned more than thirty years. He is presently a regular contributor to prestigious museum exhibitions such as the Masters of the American West, the Prix de West Invitational Art Exhibition and Sale, the Phoenix Art Museum's West Select, and the Eiteljorg's Quest for the West Art Show and Sale.
In 2011 he was the recipient of the Victor Higgins Award for the best body of work exhibited at Quest for the West. His paintings are widely collected and included in the permanent collections of several museums, and he has presented numerous solo shows at notable galleries. The U.S. State Department selected several of his paintings for their Art in the Embassies exhibitions.
At the start of his career, Peters worked for twelve years as an independent freelance illustrator in New York City, where he created paintings for the national advertising campaigns of corporations such as 7UP, IBM, Audi, Intel, Revlon, TV Guide, and others. This illustration experience gave him a solid foundation for his current work. As a member of the Society of Illustrators, his award-winning paintings have been featured on the covers of such magazines as U.S. News and World Report. Peters's landscape paintings have also been featured in Art of the West, Cowboys & Indians, Equine Image, Persimmon Hill, Southwest Art, Western Art Collector, Western Horseman, and Wildlife Art.
Born in upstate New York and raised in Phoenix, Peters credits his early memories of the Arizona desert with sparking a passion for the outdoors. His extensive travels throughout the American Southwest instilled a love for nature. Enthusiasm and respect for the natural world continues to be the driving force behind his landscape paintings.
His life in the West included some time in Colorado where he and his wife, Nanette, raised and showed Paint horses. After spending several years on the California coast, the couple and their two children have moved back home to the Arizona high country near Prescott, where they currently reside.
Robert Peters is represented by Broadmoor Galleries, Colorado Springs, Colorado; Legacy Gallery, Scottsdale, Arizona, Jackson, Wyoming, and Bozeman, Montana; McLarry Fine Art, Santa Fe, New Mexico; Pitzer's Fine Arts, Wimberley, Texas; and Whistle Pik Galleries, Fredericksburg, Texas.
---
Back to Artists and Artwork