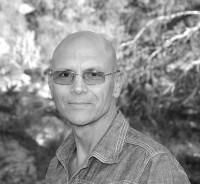 Mick Doellinger has been focused on sculpting animals for thirty-five years, but his fascination with wildlife, nature, and art spans back to his earliest memories. From his first terracotta sculpture of an Aboriginal (at the age of eleven), to a bronze European red stag, a North American moose, and an African black rhino, his subjects scan the globe and show his varied interests.
Doellinger has spent his entire life working with and around animals in some capacity, and this lifelong accumulation of hands-on knowledge has given him unique insights into the anatomy, movements, and behavior of his subjects. His move from Australia to the U.S. in 2003 gave him the ability to transition from part-time artist to full-time sculptor; he now calls Fort Worth, Texas, home.
His sculptures are exhibited in galleries, museums, and private collections around the world. Doellinger's work has appeared in Art of the West, Cowboys & Indians, Southwest Art, Sporting Classics, Western Art & Architecture, and Western Art Collector.
He is a member of the Society of Animal Artists, and in 2012 was honored with an Award of Excellence and the Hiram Blauvelt Art Museum's Purchase Award at the society's annual exhibition in Oradell, New Jersey. In early 2014, one of Doellinger's longhorn sculptures won an Award of Excellence at the NatureWorks show in Tulsa, Oklahoma. The National Sculpture Society's 2010 juried exhibition awarded him with the John Spring Art Founder Award for one of his English pointers.
Doellinger hopes viewers of his work will connect with the sculpture in some way. He wants people to "feel the essence of the animal" and notice the subtle nuances of the shape, motion, or character in each piece.
Mick Doellinger is represented by Collectors Covey, Dallas, Texas; Fama Fine Art, Houston, Texas; Joe Wade Fine Art, Santa Fe, New Mexico; Mockingbird Gallery, Bend, Oregon; Settlers West Galleries Inc., Tucson, Arizona; and Trailside Gallery, Jackson, Wyoming, and Scottsdale, Arizona.
---
Back to Artists and Artwork