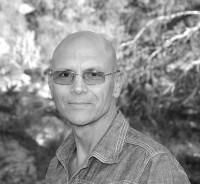 Mick Doellinger hopes viewers of his work will connect with the sculpture in some way. He wants people to "feel the essence of the animal" and notice the subtle nuances of the shape, motion, or character in each piece.
Doellinger has been focused on sculpting animals for 35 years, but his fascination with wildlife, nature, and art spans back to his earliest memories. From his first terracotta sculpture of an Aboriginal (at the age of eleven), to bronzes of Longhorn steer, a European red stag, an Alaskan moose, and an African black rhino, his subjects span the globe and show his varied interests.
Doellinger has spent his entire life working with and around animals in some capacity, and this lifelong accumulation of hands-on knowledge has given him unique insights into the anatomy, movements, and behavior of his subjects. He believes his time in the field, studying the subjects and the environments they occupy, is critical to his creative process.
He is an Elected Member of the National Sculpture Society and the Society of Animal Artists. His sculptures are exhibited in galleries, museums, and private collections around the world. Doellinger's work has appeared in Art of the West, Cowboys & Indians, Southwest Art, Sporting Classics, Western Art & Architecture, and Western Art Collector.
Mick Doellinger is represented by Collectors Covey, Dallas, Texas; Fama Fine Art, Houston, Texas; Joe Wade Fine Art, Santa Fe, New Mexico; Mockingbird Gallery, Bend, Oregon; Paderewski Fine Art, Beaver Creek, Colorado; Settlers West Galleries Inc., Tucson, Arizona; the Sportsman's Gallery, Charleston, South Carolina; Trailside Galleries, Jackson, Wyoming, and Scottsdale, AZ; and the Wykeham Gallery, Stockbridge, Hampshire, England.
---
Back to Artists and Artwork