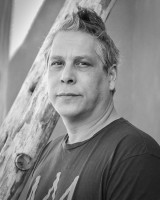 As Native people we are born into this world with an expectation that we will be participatory in life and contribute to society. What I have contributed most directly to life are my children and my art. Painting and drawing for me have always been urgent, compelling, and necessary. I make marks out of a need to communicate, to contextualize, to form meaning in the world around me. It is less of a choice and more of a manic drive deeply embedded in my psyche. Without these things, my life would be empty indeed.
My paintings are based in abstract expressionist references. Bold colors slash across canvas, hot colors vibrate next to cold, drips and smears hover over the surface. Action painting references abound in stabbing, gestural marks. Artists like Franz Kline,
William De Kooning, Jackson Pollock, and Robert Motherwell are companions along this urgent pathway of color and surface.
And the paintings are also part Pop Art. Photographic imagery collides with color and surface, giving rise to form, space, and emotion. The line between literal photographic information and gestural paint is blurred, reduced, destroyed. A collision between photography and paint results in something more. Artists like Andy Warhol and Robert Rauschenberg are signposts along this part of the painted pathway.
Finally, these paintings are portraits of Native people, many of them still living. They are governors, medicine men, society members, brothers, sisters, husbands, wives, and children. They are a snapshot of the living communities of the Rio Grande Pueblos. Instilled in these paintings is the essence of the dance, the sound of the baritone drumbeats at dawn echoing out over the plaza, the Tewa chanting of the men. And they are powerful, life-affirming images for all to share and enjoy.
Mateo Romero is represented by Berlin Gallery, Heard Museum, Phoenix, Arizona; Blue Rain Gallery, Santa Fe, New Mexico; Case Trading Post, Wheelwright Museum of the American Indian, Santa Fe, New Mexico; Galerie Orenda, Paris, France; and Sara's Southwest Gallery, Bernalillo, New Mexico.
---
Back to Artists and Artwork