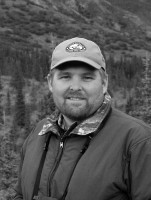 Luke Frazier's art is a by-product of his life. His paintings are an extension of the experiences he has had while traveling, photographing, hunting, and fishing North America and around the world. Like a good storyteller, he has had to be a keen observer and immerse himself in his surroundings. Frazier tries to capture the sights, sounds, and memories experienced while on the water and the hunt.
Frazier received his formal art training at Utah State University, where he earned a BFA degree in painting and an MFA degree in illustration. Every year he travels from Alaska to Africa, painting landscapes and photographing animals in their environment.
His work has garnered numerous awards, including the Artists' Choice award and the Patrons' Choice award at the Briscoe Museum's 2011 Night of Artists Art Sale & Exhibition. He also received the Founder's Favorite Award at the Arts for the Parks competition in 2002 and the Wildlife Art Award in 1997, 1996, and 1994.
Frazier has been profiled in Art of the West, Big Sky Journal, Fibonacci, Southwest Art, Western Art & Architecture, and Wildlife Art. His paintings frequently appear in Field & Stream, Gray's Sporting Journal, and Sporting Classics magazines.
Frazier says, "My goal as an artist is to offer up a different point of view of the natural world. As a sportsman, I want to tell a gripping story between antagonists, portray an emotionally charged powerful scene, or show a calm intimate close-up. As a representational artist, I need to be as accurate as possible with my drawing, having a strong knowledge of the anatomy, and a good grasp of the nuance of subtle color and composition."
---
Back to Artists and Artwork