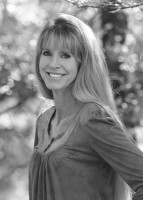 Born in Iowa, Lori Forest was drawn to the visual arts even as a young child. At age seven, she won an art contest through a local television station, which started her on her artistic path. Her family moved to Colorado when she was fifteen, and from that moment her love for the West began. A resident of Colorado for most of her life, Forest's paintings illustrate her fascination for the sublime beauty and quiet power of the West. The Western horse and wildlife are the primary focus of her oil paintings.
Forest studied art and geology at Colorado State University, but she believes her greatest teacher has been that of observation and experience painting in the field. An active outdoors person and horsewoman, she makes frequent trips into the national parks and wilderness of the western United States.
Backcountry explorations often bring her face-to-face with wildlife in their natural habitat. These personal experiences are the subjects of her paintings. Her wildlife pieces are representative of the animals' natural behavior and territory. These paintings are both landscapes and wildlife images. Color and proportion studies are started onsite. Using the field study and reference photos, paintings are completed in the studio. "The focus of my composition is to pull the viewer into my painting. I really try to convey a sense of depth and space using dramatic light and atmosphere."
Her passion and knowledge of horses is evident in her equine paintings. She owns five Western horses—four Appaloosas and a Spanish colonial mustang—and often uses her own animals as inspiration for her paintings. The Western horse in its natural element is the most frequent subject of her equine paintings.
Forest's award-winning work has received national recognition in numerous shows. She has participated in Masters since 2014 and at exhibitions by the Oil Painters of America, the American Academy of Equine Art, the Paint the Parks Top 100 Competition, and the Nation Museum of Wildlife Art's Plein Air Festival.
Lori Forest is represented by Dick Idol Signature Gallery, Whitefish, Montana; and Trailside Galleries, Jackson, Wyoming, and Scottsdale, Arizona.
---
Back to Artists and Artwork