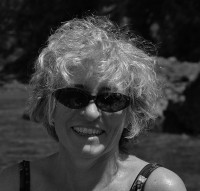 Born and raised in Zimbabwe, Lindsay Scott studied at the Michealis School of Fine Art, Cape Town, and received her fine arts degree from the University of Minnesota. Seeing the work of such artists such as Bob Kuhn and Robert Bateman made her realize that the two passions of her life, art and biology, could be combined. Since then, she has devoted her life to wildlife art and has gone on to become one of the most highly regarded African wildlife artists in the world. She also draws much inspiration from having lived more than twenty-five years in the American West.
Scott has traveled extensively, leading tours to Africa and Antarctica, and conducting research in Australia for the National Geographic Society. An avid conservationist, she works with organizations such as the Yellowstone Foundation, the Rainforest Foundation, and the African Wildlife Foundation.
In 2009 the National Museum of Wildlife Art in Jackson, Wyoming, honored Scott as their Featured Painter. Along with Bob Kuhn and Guy Coheleach, she was selected for the "Uniting Artists Across Continents" cultural exchange to Botswana, Namibia, and South Africa. She has won the prestigious Award of Excellence from the Society of Animal Artists and many other awards, including Best of Show and First Place (in the same year) at the Pacific Rim Wildlife Art Show.
Scott's work has been featured in, and on the cover of, many magazines, including African Sporting Gazette, Southwest Art, Sporting Classics, and Wildlife Art. Her paintings and drawings are in great demand at some of the finest art galleries in America and England.
Scott and her husband, Brian McPhun, live in Matakana, New Zealand, when they are not off searching around the globe for new subjects to paint.
Lindsay Scott is represented by InSight Gallery, Fredericksburg, Texas; Out of Africa in Montana Art Gallery, Bozeman, Montana; Sportsman's Gallery, Ltd., and Paderewski Fine Art, Charleston, South Carolina; and Trailside Galleries, Jackson, Wyoming, and Scottsdale, Arizona.
---
Back to Artists and Artwork