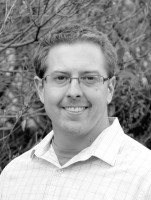 Kyle Sims was born in Cheyenne, Wyoming, on June 12, 1980. He was raised there until the age of eighteen when he ventured off to college in Billings, Montana, and received his BA in art. Sims's obsession with depicting the natural environment around him began early, but he remembers age thirteen as being a crucial time. At sixteen, he began taking workshops that enabled him to meet Dan Smith, who has become a good friend, and Paco and Toni Young, who nurtured his development. Paco encouraged Sims to paint from life, and this way of seeing changed Sims's work in a big way.
Sims enjoys making new discoveries with oil paint and getting out and observing wildlife firsthand. Ungulates' rutting periods can be very interesting, as their social interactions and activity levels increase, and Sims has found that this can make for some fun storytelling within the painting, which is the key to a successful piece.
In 2016 he won the Bob Kuhn Wildlife Award, Sponsored by Jodie and James Rea, at the Masters of the American West, and he was the Featured Artist for the Southeastern Wildlife Exposition in Charleston, South Carolina. At the 2013 Masters, his painting The Suitor won the Bob Kuhn Wildlife Award, Sponsored by Carl and Rosella Thorne. In 2009 Sims received the Major General and Mrs. Don D. Pittman Wildlife Award at the Prix De West and Best of Show at the Buffalo Bill Art Show & Sale. In 2005, he was awarded the Wildlife Award at the former Arts for the Parks competition and the Distinguished Young Artist Award from the Society of Animal Artists.
He exhibits annually at the Buffalo Bill Art Show & Sale and at well-known miniature shows. His work has appeared in Art of the West, Southwest Art, Western Art Collector, and Wildlife Art.
Sims and his wife, Joylene, currently reside near Bozeman, Montana.
Kyle Sims is represented by Broadmoor Galleries, Colorado Springs, Colorado; Coeur d'Alene Galleries, Coeur d'Alene, Idaho; Paderewski Fine Art, Charleston, South Carolina; Summit Fine Art, Billings, Montana; and Trailside Galleries, Jackson, Wyoming, and Scottsdale, Arizona.
---
Back to Artists and Artwork