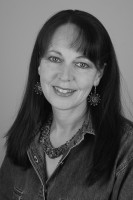 Born in Victoria, Australia, Krystii Melaine won her first art competition at age seven, and by the age of fourteen she was selling paintings and accepting commissions. Following university studies in painting, drawing, graphic design, and photography, she enjoyed a highly successful career as a fashion designer.
A desire to return to her lifelong passion for painting led Melaine to five years of study with the renowned Australian artist Graham Moore, which provided her with a strong background in portraiture, still life, and landscape painting. During her first visit to North America in 1998 Melaine discovered a strong affinity for the American West, and its wildlife, cowboys, and Native Americans quickly became her favorite painting subjects.
Exhibitions in the United States have included the Autry Museum's Masters of the American West; the Leigh Yawkey Woodson Art Museum's Birds in Art show; the Eiteljorg's Quest for the West Art Show and Sale; The Russell at the C. M. Russell Museum; the Buffalo Bill Art Show & Sale; the Desert Caballeros Western Museum's Cowgirl Up!; the National Cowgirl Hall of Fame's Heart of the West; and major solo and group exhibitions. Articles about her work have appeared in Art of the West, InformArt, Southwest Art, U.S. Art, Western Art Collector, and Wildlife Art.
In 2016 and 2015 she won the Patrons' Choice Award at the Eiteljorg Museum's Quest for the West Art Show and Sale, and in 2015 she also won the Fine Art Connoisseur Magazine Award at the Buffalo Bill Art Show & Sale, Buffalo Bill Center of the West. Her many other awards have included the Painting Award at the Buffalo Bill Art Show & Sale; First Prize 2D Art on Canvas and Artists' Choice Award at Cowgirl Up!; and Best of Show 2D at Heart of the West. Melaine is a Master Signature Member of American Women Artists and a member of the Portrait Society of America.
Krystii Melaine is represented by Big Horn Galleries, Tubac, Arizona; Broadmoor Galleries, Colorado Springs, Colorado; Coeur d'Alene Galleries, Coeur d'Alene, Idaho; Going to the Sun Gallery, Whitefish, Montana; and Mountain Trails Gallery, Jackson, Wyoming, Park City, Utah, and Sedona, Arizona.
---
Back to Artists and Artwork