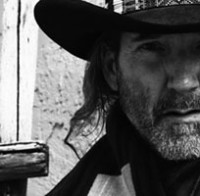 Kim Wiggins's distinct style and modern vision of the West has made him one of the most recognizable artists in America today. He is acknowledged as one of the creative forerunners behind the current Modern West movement. Growing up on a ranch in southern New Mexico, by the mid-1970s he was painting in oil and working as a graphic artist for a national equine magazine. Although primarily self-taught, he was mentored by such masters as Henriette Wyeth, Alexandre Hogue, and William Lumpkins. During the 1980s his experimentation with various forms of impressionism, expressionism, magical realism, symbolism, and modernism eventually led to his unique approach.
As a modern innovator, Wiggins's finest work merges symbolism with the American West. His monumental work Lewis & Clark Among the Mandan is in the permanent collection of the Autry Museum. Other collections include the American Museum of Western Art, the Briscoe Western Art Museum, the Booth Western Art Museum, the Museum of New Mexico, the Anschutz Collection, Tulane University, and the Roswell Museum & Art Center. The Staples Center in Los Angeles houses a collection of ten major historical works by Wiggins depicting the history of California. Wiggins has been honored with numerous awards, including the Briscoe Museum's William B. Travis Award in 2018 and the New Mexico Historical Society's Heritage Award in 2014. He was also honored with the People's Choice Award at the prestigious Painters and the American West exhibition in 2000 for his massive work, Merging Cultures on the Santa Fe Plaza. This major exhibition traveled from the Denver Art Museum to the Corcoran Gallery of Art, the Joslyn Art Museum, and the Art Institute of Chicago. 
His work is featured in the recent National Geographic book The Old West and has appeared in or graced the covers of such publications as American Psychologist, Architectural Digest, Art of the West, Cowboys & Indians, Elle Decor, International Artist, Southwest Art, Western Art & Architecture, Western Art Collector, and Wildlife Art. The book Kim Wiggins: Artist of the Modern West, was recently released in conjunction with his solo show at Manitou Galleries in Santa Fe, New Mexico.
Wiggins resides in New Mexico with his wife, Maria.
Kim Wiggins is represented by Manitou Galleries, Santa Fe, New Mexico. Special events with Maxwell Alexander Gallery, Los Angeles, California.
---
Back to Artists and Artwork