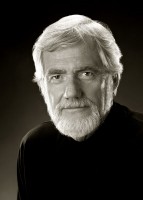 A native of Sweden, Kent Ullberg is recognized as one of world's foremost wildlife sculptors and creator of public monuments. He studied at the Swedish University College of Art in Stockholm and worked at museums in Germany, the Netherlands, and France, and Denver, Colorado. After living in Botswana, Africa, for seven years he became an American citizen and now resides in Corpus Christi, Texas. He also maintains a studio in Loveland, Colorado.
His Fort Lauderdale, Florida, and Omaha, Nebraska, installations are the largest wildlife bronze compositions ever done, spanning several city blocks. Both earned him the coveted Henry Hering Medal Award from the National Sculpture Society. His most recent monumental installation is Snowmastodon, a life-size (19 feet high) bronze mastodon placed outside the Denver Museum of Nature and Science.
He is a Full Academician of the National Academy in New York City and has received the highest professional recognitions from many prestigious art organizations.
Kent Ullberg is represented by Broadmoor Galleries, Colorado Springs, Colorado; Corpus Christi Art Connection, Corpus Christi, Texas; Galleri Fahlnaes, Gothenburg, Sweden; Helena Fox Fine Art, Charleston, South Carolina; Trailside Galleries, Jackson, Wyoming, and Scottsdale, Arizona; Wiford Gallery, Santa Fe, New Mexico; and Wind Way Gallery, Rockport, Texas.
---
Back to Artists and Artwork