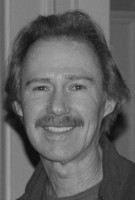 Connection to the West came early in Kenny McKenna's life. With family anchored in California, memories of trips from his native Kansas along Route 66 began at the age of four. Impressions of the mountains, red rock formations, and desert terrain were in striking contrast to the farmland and rolling hills of Kansas.
During a music career spanning two decades, McKenna continued with his early interest in art. With his first painting, completed in 1966 during his third year of high school, oil was established as his medium. The coast-to-coast miles he traveled as an accomplished musician provided the direction for landscape painting.
Whether painting the Grand Canyon, Red Rock country, the Tetons, or Texas, McKenna's objective is to create a piece that comes together by knowing what to paint in and what to leave to the viewer's imagination.
In 2015 McKenna's work was recognized with the Williams Award for First Place in Painting at the Gilcrease Museum's Collectors' Reserve Small Works Art Exhibition in Tulsa, Oklahoma. He is a four-time Award of Excellence recipient and 2010 featured artist at the NatureWorks Wildlife Show and Sale, Tulsa, Oklahoma; received the Lead Steer Award in 2008 and 2012 at the Panhandle-Plains Invitational, Canyon, Texas; and took the second-place award in 2011 at the Scottsdale Salon of Fine Art show, Scottsdale, Arizona. His work has been featured in Art of the West, Southwest Art, and Western Art Collector. McKenna's work is also included in the book Contemporary Art of the Southwest, authored by E. Ashley Rooney and published by Schiffer Publishing Ltd. in 2014.
Kenny McKenna is represented by Collectors Covey, Dallas, Texas; Howell Gallery, Oklahoma City; Legacy Gallery, Scottsdale, Arizona, Jackson, Wyoming, and Bozeman, Montana; and Settlers West Galleries Inc., Tucson, Arizona.
---
Back to Artists and Artwork