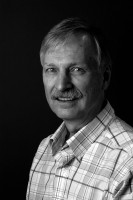 John Buxton's ancestors have been involved in this country's history from its beginning, arriving in the seventeenth century through the first English settlement of Jamestown. As a child growing up in Oxford, North Carolina, he had no idea this would have anything to do with his future. His obsession back then was drawing and learning how to better create artwork, a passion still flourishing today.
While still an illustrator, Buxton began to explore the world of fine art painting. He had two paintings accepted and exhibited in the Birds in Art show at the Leigh Yawkey Woodson Art Museum. He also exhibited with the American Academy of Equine Artists before settling into his true niche—historical paintings of a young country as it struggled to become more than a wilderness. Those early events and people of various cultures now graced his canvases and once again he began to garner awards. Because Buxton's paintings are so extensively researched, they have been used in historical documentaries, as teaching aids for history, and on numerous book covers and texts to enhance knowledge of our heritage. Many historical sites and museums display his work as well.
In 2017 Buxton took First Place Overall and Best Figure in Landscape in the PleinAir Salon Art Competition. At the Quest for the West Art Show and Sale Buxton won the Patrons' Choice Award in 2017 and 2009 and the Harrison Eiteljorg Purchase Award in 2013. At the Art Renewal Center's annual International ARC Salon competition, he took the Western Art Collector Magazine Award in 2014–2015 and won Finalist Awards in 2014–2015 and 2015–2016. His paintings have also won Patrons' and People's Choice awards at the Germanton Art Gallery's Annual Miniatures Show in North Carolina, and the Art Renewal Center has classified Buxton as one of their Living Masters.
Feature articles on Buxton and his art have appeared in America's First Freedom, Art of the West, The Artists, PleinAir, U.S. Art, and Westsylvania magazines, in local newspapers, and on television.
Buxton and his wife, Noralee, have two children, Bryan and Megan, and they are blessed with five grandchildren.
Giclée reproductions of John Buxton's work are available nationwide through Greenwich Workshop dealers.
---
Back to Artists and Artwork