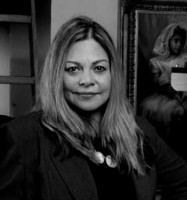 JoAnn Peralta, painter, author, and former illustrator, crossed over into fine art in 2004. She is known in the Western art world primarily for her depiction of American Spanish and Latin culture and beauty, which contributed to the American landscape, as well as Southwestern historical figures. With her deft handling of brushwork and luminescent light, she creates a timeless flair to her paintings.
Peralta attended ArtCenter College of Design in Pasadena, California, where she was awarded a full-time scholarship. Since then, her work has been featured in such publications as Art Business News, Art of the West, Cowboys & Indians, Fine Art Connoisseur, International Art, International Artist, Southwest Art, Western Art & Architecture, and Western Art Collector. Her work was the subject of a feature article written by the late John J. Geraghty, then special advisor to the Autry's annual Masters of the American West, in the December 2012 issue of Western Art Collector. She also had a feature article, written by Vicki Stavig, in Art of the West's Jan./Feb. 2016 issue. Most recently she was the subject of an "In the Studio" article, written by Isabelle Walker, in the Dec./Jan. 2019 issue of Western Art & Architecture. 
Peralta has participated in Masters of the American West for the past 11 years. At the 2019 Masters she won the Artists' Choice Award, Sponsored by Mona and Frank Mapel, for her painting Spanish Shawl—the second of only two women awarded this honor. She has had consecutive sold-out shows at the Small Works, Great Wonders show held annually at the Cowboy Hall of Fame in Oklahoma City. Her painting Heart of the West (W. S. Hart Museum, courtesy of the Natural History Museum, L.A. County) was recently returned to her after being on display in the Longworth Building of the U.S. Capitol in Washington, D.C. It will be included in the 2020 Masters. Peralta's first book, MathFace, is receiving excellent reviews. It has been added to  the Library of Congress along with a special program for education purposes that the Congressional Library requested. MathFace is available for purchase on a link in her website www.jperalta.com as well as in the Autry Store, and the documentary Spanish Americans: The Fine Art of JoAnn Peralta is also available via link on her website.
JoAnn Peralta is represented by InSight Gallery, Fredericksburg, Texas; and Trailside Galleries, Jackson, Wyoming, and Scottsdale, Arizona.
---
Back to Artists and Artwork