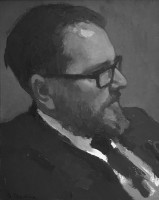 Few artists today can claim the success and artistic repertoire attained by Jeremy Lipking—fewer still can claim all this before reaching forty years of age. A realist figurative painter who claims John Singer Sargent, Joaquin Sorolla, and Anders Zorn as major influences, Lipking creates art that is distinguished by a contemporary aesthetic and modern subject matter. 
The son of painter and illustrator Ron Lipking, Lipking's interest in art started as a young child. He soon enrolled in the California Art Institute in Westlake Village, where his burgeoning talent became evident as he devoted himself to serious study. He quickly found his own way and the unique ethereal style that has made him famous. Many of his well-known paintings feature his wife, Danielle, and daughter, Skylar.
People are drawn to the almost paradoxical aesthetic qualities of Lipking's work: his paintings are both hyper-realist and softly rendered at the same time. As Michael Zakian, director of the Frederick R. Weisman Museum of Art at Pepperdine University put it, "Lipking's skill lies in his ability to probe in and around his subject. With a highly sensitive eye, he sees nuances of value and hue that the camera and most people can never see. More incredibly, he is able to translate his highly nuanced vision into a painted image."
In 2014 Lipking won the Prix de West Purchase Award at the National Cowboy & Western Heritage Museum's Prix de West Invitational Art Show and Sale, as well as Best in Show and Purchase Awards at the Art Renewal Center's International ARC Salon. In 2013, American Artist magazine named him one of the 75 greatest artists of all time. His work has also appeared in films, books, and an instructional DVD.
Lipking's ability to paint landscapes as ably and beautifully as he paints the human form—often combining the two in a single work—makes his body of work impressively diverse. As Lipking explains, his artistic inspiration often comes from the interplay of subject and background, which is reflected in the dynamic and intimate qualities of his work. 
Jeremy Lipking is represented by Arcadia Contemporary, New York City; and Maxwell Alexander Gallery, Los Angeles, California.
---
Back to Artists and Artwork