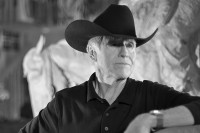 Born into a hundred-year-old ranching heritage, Herb Mignery developed an early fascination with the fluid movement of horse and rider, which in turn formed the basis for his strength in sculpting motion. Early forays into singing country music with a band and cartooning in the Army eventually gave way to sculpting. Mignery's subjects are often traditional Western figures, but his work also includes the more subtle characters of the old and contemporary West, such as shepherds, settlers, and schoolteachers.
Mignery's subjects depict the often difficult lives led by people in the West. The figures have a certain elegance and sense of classical composure in spite of the fact that they are not idealized. Details and accoutrements tell us about the subject, their profession, and their lives, so that each sculpture completes a piece of the overall story of life in the West. The beauty of imperfection is what we see, for it is imperfection that reveals the hidden tales of the figures' lives.
His commissions number in the triple digits and vary in size from the ten-inch Pioneer Award presented at the Academy of Country Music to numerous monuments reaching up to twenty feet in height.
Herb Mignery is represented by Claggett/Rey Gallery, Vail, Colorado; and Nedra Matteucci Galleries, Santa Fe, New Mexico.
---
Back to Artists and Artwork