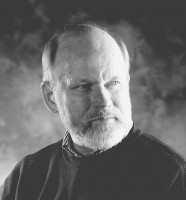 Born in Illinois on July 3, 1940, George Carlson studied at the American Academy of Art in Chicago, the Art Institute of Chicago, and the University of Arizona, Tucson.
Recognized as one of America's greatest sculptors, Carlson is also a master at using pastels and oils. His art has been shown internationally at the Hakone Open-Air Museum, Tokyo, Japan; the Kyoto World Exposition of Historical Cities, Japan; and the Peking Exhibit, Beijing, China. His works are in numerous prominent collections. His work has been exhibited at the Governor's Invitational, Denver, Colorado; the Denver Museum of Natural History; the Indianapolis Museum of Fine Arts; the National Academy of Design; the Phoenix Art Museum; the Smithsonian Institution; and the Autry Museum. In 1999, Carlson received an Honorary Doctorate of Fine Arts degree from the University of Idaho. His work has been featured in Art of the West, Art-Talk, PleinAir, Southwest Art, Sculpture Review, and Wildlife Art magazines.
In 2018 Carlson won the Thomas Moran Memorial Award for Painting and the Artists' Choice Award at the Autry's Masters of the American West. His other Masters awards include 2017 the Gene Autry Memorial Award in 2017 and 2016; the Masters of the American West Purchase Award and the Ross and Billie McKnight Artists' Choice Award, in Honor of John J. Geraghty, in 2015; the Booth Western Art Museum Artists' Choice Award in 2012 and 2009; both the Booth Western Art Museum Artists' Choice Award and the Masters of the American West Purchase Award in 2010; and he was honored in 2005 with the John J. Geraghty Award in recognition of his advancement of contemporary Western art and his sculpture The Conqueror won the Masters of the American West Purchase Award. At the National Cowboy & Western Heritage Museum's Prix de West Invitational Art Exhibition and Sale, Carlson won the Frederic Remington Painting Award in 2018; the Robert Lougheed Memorial Award in 2015, 2014, 2013, 2012, 2011, and 2010; and the Prix de West Purchase Award in 2011 and 1975. and in 2016 he won the Red Smith Artists' Choice Award at the National Museum of Wildlife Art's Western Visions Miniatures and More Show.
Carlson participated in the American Masters Exhibition & Sale at the Salmagundi Club in 2018, and in 2017 he was one of eight artists showcased in Woolaroc Museum's The Best of the Best Retrospective Exhibit and Sale.
George Carlson is represented by Simpson Gallagher Gallery, Cody, Wyoming; and Wood River Fine Arts, Ketchum, Idaho.
---
Back to Artists and Artwork