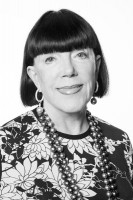 A native of Los Angeles, Gayle Garner Roski studied fine arts at the University of Southern California. Her vibrant watercolors have been exhibited extensively in museums and galleries from Southern California to Scotland. Roski bridges her fine art career with her civic dedication and has headed public art projects throughout the city, including the Community of Angels Sculptural Project. Roski serves on the executive board of the Los Angeles Cathedral, the California Art Club, and the University of Southern California's School of Fine Arts, which bears her name.
A plein-air watercolorist and avid world traveler, Roski has explored some of the most remote parts of the globe, always with paints and sketchbook in hand. She dives the unchartered waters off New Guinea and has climbed to the summit of Mt. Kilimanjaro. "One of the great joys of travel is seeing how creativity is expressed throughout the world: connecting to the arts and artisans of different cultures is a profound inspiration."
She has created several series of paintings from objects found in her travels around the world: calligraphy brushes from Beijing, Italian pottery from Tuscany and Umbria, and a snuff bottle from China.
Roski has illustrated seven books: Luscious, the University of Southern California's cookbook; Thomas the T. Rex: The Journey of a Young Dinosaur to Los Angeles, written by Michael Smith; Mei Ling in China City and Mystery of the Giant Masks of Sanxingdui, both written by Icy Smith; Endeavour's Long Journey, written by astronaut John D. Olivas; Earthwaves, a book on ancient Pacific navigation by Michael Smith; and The Crooked Man, His Doctor, and His Angel by Dr. Larry Dorr.
Roski's work can be seen in the cafeteria of USC Keck Hospital; in the conference room at the Children's Hospital's new facility; and in USC Verdugo Hills Hospital in La Cañada. She may also be found online at gaylegarnerroski.com and at the Autry's Masters of the American West.
---
Back to Artists and Artwork