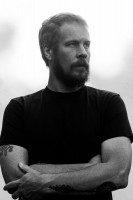 A native Californian, Eric Merrell spent his formative years on both the East and West Coasts. Early art classes in Northern California preceded art school, which he attended first in Philadelphia and later in Pasadena. After graduating from ArtCenter College of Design, he jumped wholeheartedly into outdoor painting.
Merrell was selected for a Joshua Tree Highlands Artist Residency in 2009, where he spent two summer months painting in the desert. In 2010 he presented a solo exhibition in New York City and another the following year in Pasadena, California. He was recently named a 2019 Artist-in-Residence by the Mojave National Preserve Artists Foundation.
After making a connection to California's deserts nearly 15 years ago, the color and light found in these quiet and often overlooked arid lands have provided endless inspiration for him. There is a mystery to these deserts during the day that only increases at night; as a result, desert nocturnes have become a significant part of his oeuvre.
Merrell has exhibited in the Masters of the American West at the Autry in Los Angeles, the Coors Western Art Exhibit & Sala in Denver, the Natural History Museum of Los Angeles, and the National Cowboy & Western Heritage Museum's Prix de West in Oklahoma City, among others. He has consistently exhibited for over a decade in the California Art Club's Annual Gold Medal Exhibition.
Merrell continues to follow his own course, creating work that is rooted in and inspired by our contemporary world but not bound by formula or category. His paintings are noted for their distinctive aesthetics and use of color, which are common threads throughout the work—whether depicting an urban metropolis, a portrait, or solitude in the vast desert night, they stand apart.
Eric Merrell is represented by Egeli Gallery, Provincetown, Massachusetts; Maxwell Alexander Gallery, Los Angeles, California; and Oh-Be-Joyful Gallery, Crested Butte, Colorado.
---
Back to Artists and Artwork