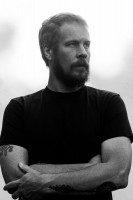 A native Californian, Eric Merrell spent his formative years on both East and West Coasts. Early art classes in Northern California preceded art school, which he attended first in Philadelphia and later in Pasadena. Although he graduated with a BFA in Illustration from ArtCenter College of Design, his goal was always to paint outdoors.
Following that objective, Merrell began exhibiting with the California Art Club (CAC), one of the oldest art organizations on the West Coast devoted to outdoor painting.
In 2009 Merrell was selected as one of six artists from around the world for a Joshua Tree Highlands Artist Residency. The following year he presented a solo exhibition at the Forbes Galleries in New York City, and in 2011, he had another solo exhibition at American Legacy Fine Arts in Pasadena. He has consistently exhibited for over a decade in the California Art Club's Annual Gold Medal Juried Exhibition, currently held at the Autry Museum.
After making a connection to California's deserts more than a decade ago, he has taken special pride in painting the color and light found in these stark and often overlooked arid lands. There is a mystery to these deserts during the day; even more so at night. Merrell has focused especially on painting nocturnes on location; he feels that this is an area that is relatively unexplored, as technological advances now allow an artist to work from direct observation of moonlight rather than from memory or other methods. Nocturnes, a short film about his approach to painting at night, was recently released and has been featured at numerous film festivals across the United States.
With a foot in both the "traditional" and "modern" camps, Merrell strives to combine the methods of the former with examples of individuality from the latter, using his own sense of color and design to create work that is singular and timeless. His works have been noted for their distinctive aesthetics and brushwork, developed over years of pursuing his personal vision.
Eric Merrell is represented by Altamira Fine Art, Scottsdale, Arizona, and Jackson, Wyoming; Egeli Gallery, Provincetown, Massachusetts; Maxwell Alexander Gallery, Los Angeles, California; and Oh-Be-Joyful Gallery, Crested Butte and Telluride, Colorado.
---
Back to Artists and Artwork