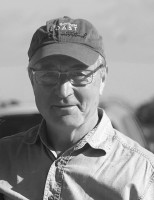 Donald Demers was born in 1956 in the small rural community of Lunenburg, Massachusetts. His interest in maritime painting was fostered while spending his summers on the coast of Maine near Boothbay Harbor. After finishing an exemplary high school art program, he furthered his education at the School of the Worcester Art Museum, Worcester, Massachusetts, and the Massachusetts College of Art in Boston.
His professional career began as an illustrator and expanded into the field of fine art. His illustrations can be found on many book covers and in national publications such as Field & Stream, National Geographic, Reader's Digest, Sail, Sports Afield, and Yankee. Demers's paintings have been featured in a number of publications, including American Artist, Art and Antiques, Artist, Fine Art Connoisseur, Maine Boats and Harbors, Nautical Quarterly, Nautical World, Offshore, PleinAir, and Yachting magazines.
Demers's landscape work garnered two awards at the Laguna Plein Air Invitational in Laguna Beach, California, in 2002 and 2001. He also received an award for his painting at the 2007 Crystal Cove Invitational sponsored by the Joan Irving Museum in Orange County, California.
Demers is a Fellow of the American Society of Marine Artists, a Signature Member of Plein Air Painters of America, and an elected member of the California Art Club, the Guild of Boston Artists, and the Salmagundi Club. He has won a record twenty-one awards at the Mystic International Marine Art exhibition in Mystic, Connecticut, including the Rudolph J. Schaefer Maritime Heritage Award in 2011 and 2006, and the Stobart Foundation Award in 2009. He conducts workshops for artists, produces instructional DVDs, and lectures on his landscape and marine art. His audiences include museums, art associations, yacht clubs, historical societies, and educational institutions.
Donald Demers is represented by Helena Fox Fine Art, Charleston, South Carolina; J. Russell Jinishian Gallery, Fairfield, Connecticut; Quidley and Company, Nantucket, Massachusetts; Settlers West Galleries Inc., Tucson, Arizona; and Vose Gallery, Boston, Massachusetts. His paintings are published as limited-edition prints through the Greenwich Workshop in Seymour, Connecticut.
---
Back to Artists and Artwork