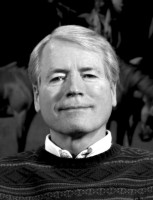 A unifying thread of focus throughout David Mann's life has been his interest in Indians, horses, and art. As a child, he collected books illustrated by Will James, Paul Brown, and Wesley Dennis, and whatever Remington and Russell prints he could find. Later, he studied the history and culture of the Western Indian tribes and had the opportunity to live among the San Carlos Apache, Navajo, and Pueblo tribes, where he experienced firsthand the stories, dignity, and cultural magic of Indian life. Using Indian people as models, Mann seeks to capture that personal "moment of truth" in his paintings, paying careful attention to the details of clothing, saddles, and jewelry.
Mann has been an annual participant in the Altermann Galleries & Auctioneers' sales and auctions. He enjoys participating in the Western Visions Miniatures and More Show and Sale at the National Museum of Wildlife Art in Jackson, Wyoming; the Masters of the American West at the Autry Museum of the American West in Los Angeles; the Quest for the West Art Show and Sale at the Eiteljorg Museum of American Indians and Western Art; and the Prix de West Invitational Art Exhibition and Sale in Oklahoma City. He and his work have been featured in Art of the West, Art-Talk, Southwest Art, and Western Art Collector magazines, and he is happy to be part of the Booth Museum Collection.
David Mann is represented by Legacy Gallery, Scottsdale, Arizona, Jackson, Wyoming, and Bozeman, Montana.
---
Back to Artists and Artwork