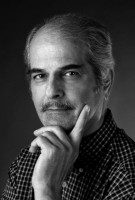 Cyrus Afsary is known for works of art that not only capture moments in time but also create moods about people and places. With an eclectic range of subjects, Afsary moves from portraits to still lifes to landscapes with a magical grace that reflects his sensitive and emotional study of life. As a child, his love for art was evident.
Afsary studied art under the strict discipline of the Russian Realist style of painting, graduating with two degrees. A member of the Northwest Rendezvous Group and the Cowboy Hall of Fame, Afsary participates annually in the National Cowboy & Western Heritage Museum's Prix de West Invitational Art Exhibition and Sale, the Autry's Masters of the American West, and the Buffalo Bill Art Show & Sale in Cody, Wyoming. Afsary was featured in the Gilcrease Museum's 2002 Rendezvous in Tulsa, Oklahoma.
He has won numerous awards, including Best of Show at the C. M. Russell Art Auction and the Exceptional Merit Award from the National Arts Club at the 1986 Pastel Society of America's juried exhibition. He has also received Gold and Silver Mmedals from the National Academy of Western Art and was the first recipient of the coveted Lougheed Memorial Award. Afsary won the Painting Award for Mystical Transformation and also shared in the Artists' Choice Award at the 2006 Buffalo Bill Art Show & Sale. In 2007 he was awarded the Best of Show at the Eiteljorg's Quest for the West Art Show and Sale. He received the Staff Choice Award in 2009 for Entrance to Shrine at the C. M. Russell Art Auction and the Williams Award in 2010 at the Gilcrease Museum's Collectors' Reserve Art Exhibition and Sale.
Afsary and his work have appeared in the periodicals American Artist, Art of the West, Southwest Art, and Western Art Collector, and he has been listed in Who's Who in American Art and Who's Who in the West. In 2009 Western Art Collector published an article by the late John Geraghty, "The Consummate Artist," which is certainly true of Afsary's passion for his work and the exceptional paintings he produces.
Cyrus Afsary is represented by Altermann Galleries & Auctioneers, Santa Fe, New Mexico, Scottsdale, Arizona, and Dallas, Texas; Claggett/Rey Gallery, Vail, Colorado; Settlers West Galleries Inc., Tucson, Arizona; and Trailside Galleries, Jackson, Wyoming, and Scottsdale, Arizona.
---
Back to Artists and Artwork