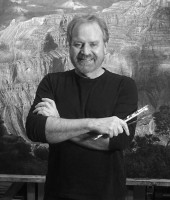 In 2011 Southwest Art named Curt Walters one of the "Forty Prominent People in the Western Art World." Art of the West magazine was the first to herald him as the "Greatest Living Grand Canyon Artist" in 1997, one of "Eight True Masters" in 2007, and "King of the Canyon" in 2017.
In 2017 Curt Walters won the Jackie L. Coles Buyers' Choice Award for his Grand Canyon painting Compilation of the Gods at the Prix de West Invitational Art Exhibition and Sale. With this win, Walters has won the Buyer's Choice six times, more than any other artist in the history of the show.
Three major events dominated 2016 for Walters. First, his drawings of Spanish conquistadors and paintings of the Grand Canyon were featured in a comprehensive Grand Canyon exhibition at the Eiteljorg Museum. Second, he was one of the instructors and speakers for the Tucson Plein Air Convention & Expo. And at the Museum of Northern Arizona, Walters was honored with a one-man retrospective, which featured thirty-five paintings and drawings spanning the past thirty-five years of his career.
One of Walters's proudest moments was in 2008 when he won the James R. Parks Trustees' Purchase Award for Splendid Turmoil at the Autry's Masters of the American West. This painting was one of the featured works in Curt Walters: A Retrospective, a one-man show at the Museum of Northern Arizona in 2016. Walters also received the Patrons' Choice Award at Masters in 1999.                                                  
At the Prix de West, Walters has been honored with the Nona Jean Hulsey Rumsey Buyers' Choice Award four times and the Frederic Remington Painting Award three times, and he won both the Buyers' Choice Award for Ra's Domain and the Prix de West Purchase Award for Spring's Caprice in 2007. At the Eiteljorg's Quest for the West, Walters has won six awards, including the Henry Farny Award for Painting in 2012 and 2010. Walters also received the 2014 Lifetime Achievement Award from the Western Desert Caballeros Museum in Wickenburg, Arizona.
Curt Walters is represented by J Watson Fine Art, Valencia, California.
---
Back to Artists and Artwork