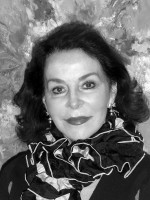 Conchita O'Kane grew up in Chicago in a creative environment nurtured by her mother, an accomplished artist who studied with the renowned Mexican muralist David Alfaro Siqueiros, and her father, who pioneered the computer industry.

With degrees in English and Russian literature, O'Kane found a unique way of expressing beauty in both the literary and visual arts. After a successful career as a jewelry designer and writer, she decided in 1998 to explore the possibility of integrating these careers through painting. This idea became a reality as she learned the skills necessary to illustrate her short stories. She studied at ArtCenter College of Design and has attended numerous classes in the United States and abroad.

O'Kane is inspired by the compositional strength found in the works of Ilya Repin, Valentin Serov, and other Russian Impressionists as well as the great Spanish painter Sorolla. She has painted in Russia, France, Italy, Africa, Scotland, Mexico, Spain, Morocco, China, and Mongolia. She has discovered that art is a language that unifies all countries and peoples, and that this artistic expression allows us to share our humanity.

O'Kane has exhibited her art in the California Art Club's Annual Gold Medal Exhibition, Oil Painters of America's Annual Juried Exhibition of Traditional Oils, the Cathedral of Our Lady of the Angels in Los Angeles, and the Old Mill Gallery in San Marino.
---
Back to Artists and Artwork