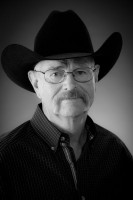 Bill Nebeker returns in 2020 for his 21st year at the Autry's Masters of the American West. Having his sculptures displayed alongside some of the finest artists in Western art is always a great honor.
In 2019 Nebeker was given a Lifetime Achievement Award, honoring his contributions to Arizona's history, arts, culture, economy, and philanthropy, by the Shemer Art Center & Museum in Phoenix, and the Prescott Area Art Trust commissioned a 1½- life-size bronze sculpture, If Horses Could Talk, for installation at the Prescott Airport entrance. In 2017 Nebeker was honored with the heART of the West Lifetime Achievement Award from Desert Caballeros Western Museum. In 2016 he received the James Bowie Sculpture Award at the Briscoe Museum's Night of Artists and the Express Ranches Great American Cowboy Award at the Prix de West. In 2015 the Briscoe Western Art Museum in San Antonio unveiled his bronze monument of a Texas Ranger, The Eyes of Texas, in its Jack Guenther Pavilion. He was honored to be featured in the May/June 2018 issue of Art of the West and the December 2018 issue of Western Art Collector.
The Booth Western Art Museum, Bosque Arts Center, Briscoe Western Art Museum, Cheyenne Old West Museum, Desert Caballeros Museum, Eiteljorg Museum of American Indians and Western Art, Museum of Western Art in Kerrville, Texas, National Cowboy & Western Heritage Museum, Palm Springs Art Museum, Pearce Museum at Navarro College, Phippen Western Art Museum, Phoenix Art Museum, and Pinedale Museum of the Mountain Man are all proud to have Nebeker's bronze sculptures in their permanent collections.
Bill Nebeker is represented by Broadmoor Galleries, Colorado Springs, Colorado; Mountain Spirit Gallery, Prescott, Arizona; Texas Treasures Fine Art Gallery, Boerne, Texas; and Trailside Galleries, Jackson, Wyoming, and Scottsdale, Arizona.
---
Back to Artists and Artwork