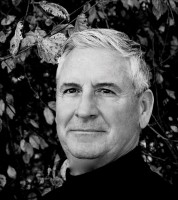 Andrew Peters has dedicated his life to landscape painting using Impressionist and academic methods. He is irresistibly drawn to wild places for his plein-air sketches, which he has created throughout the American West and on other continents.
Peters won his first major art competition at age twenty-two. He roamed Africa for a year painting animals, landscapes, and Indigenous peoples, which resulted in major exhibitions at the Joslyn and the Denver Museum of Natural History. He has lived in Cusco, Peru, painting scenes of Aymara and Quechua Indians, and in Florence, Italy, painting large canvases of Tuscan hill towns for major corporate commissions. He has sought subjects in Spain, Morocco, and Romania.
In 2017 Peters was an invited speaker and one of eight artists showcased in Woolaroc Museum's The Best of the Best Retrospective Exhibit and Sale, and he was an invited speaker in conjunction with the Joslyn Art Museum's Wild Spaces, Open Seasons exhibition chronicling American sporting art over the past 200 years. In 2015 he received the Prix de West Purchase Award at the National Cowboy & Western Heritage Museum's Prix de West Invitational Art Exhibition and Sale, and the Bluffs Arts Council President's Award. In 2010 Peters was the featured artist and lecturer at Arts on the Green in Cashiers, North Carolina. In addition to Masters and the Prix de West, he has participated in the C. M. Russell Museum's Masters in Miniature; the Buffalo Bill Art Show & Sale; the Rims to Ruins Art Exhibition and Sale, which is a Mesa Verde Foundation invitational exhibition; Small Works, Great Wonders at the National Cowboy & Western Heritage Museum; the National Museum of Wildlife Art's Western Visions Miniatures and More Show and Sale; and the Jackson Hole Art Auction. He is an ardent conservationist involved in prairie and wetlands restoration.
His work is found in the permanent collections of the National Cowboy & Western Heritage Museum and the Great Plains Art Museum, University of Nebraska, Lincoln, where he was the first Artist-in-Residence. The National Museum of Wildlife Art, Cincinnati Museum Center, and Colorado History Museum have featured his work, and his paintings also appear in the book Painters of Grand Teton National Park by Donna L. and James Poulton (Gibbs Smith, 2015).
Andrew Peters is represented by Howell Gallery, Oklahoma City; Summit Fine Art, Billings, Montana; and Wood River Fine Arts, Ketchum, Idaho.
---
Back to Artists and Artwork