Third Annual Student Visual Arts Exhibition: Visions of Culture
CALL FOR SUBMISSIONS
Third Annual Student Visual Arts Exhibition: Visions of Culture
Opening Sunday, April 22, 2018, Noon–3:00 p.m.
Submission date: March 9, 2018
The Autry announces its third annual Student Visual Arts exhibition, a program of Autry Classroom Curators. This exhibition celebrates and highlights student-driven research and creativity while providing insight from and access to educators and professionals in the visual arts.
ABOUT THE THEME: VISIONS OF CULTURE
Culture is a big and diverse idea, and a basic aspect of society critical to the development of every civilization. It can refer to the attitudes, beliefs, and practices of a group of people, or specific developments in the arts, literature, philosophy, religion, and other humanistic aspects of a given society. People are often defined by their culture, and outsiders' perceptions of a place are often informed by their understanding of that place's culture. This is particularly true of the American West. For over a century, people across the world have defined the American West as a place of "cowboys and Indians." This perception was created in part by books, movies, and other forms of cultural production. Yet Westerners continue to create their own cultures, building upon the traditions of their diverse ancestors and the realities of their unique geographic place. The West is the home of cowboys and of countless Native peoples, but it is also the home of surf and skate culture, Hollywood and the concept of celebrity, American environmentalism, new movements in music, and diverse ethnic groups. The cultures of the West and our understanding of them are vast and, in some sense, in need of greater definition and insight.
The Autry calls on the students of Southern California to take up this challenge—to create works of art that reflect, explain, and define the culture/s of the American West. Your work may represent a unique ethnic identity that exists in the West, like the cultural experience of the Armenian, Korean, or Latino community. You might engage with a broad cultural idea like living the "California dream." The possibilities
are endless. Whatever approach you choose, the Autry looks forward to seeing and sharing your insights.
---
Schedule
Submissions will be accepted until March 9, 2018
Juried completion results will be shared with teachers/advisors on Monday, April 9, 2018
Selected artwork will be on view Sunday, April 22–Sunday, April 29, 2018
Artwork must be picked-up from the Autry no later than Friday, May 11, 2018
Student Artwork Guidelines
All works of art must be original artwork created by students in grades 7-12.
In order to fit a standard frame, artwork must measure 5x7, 8x10, 11x14, 16x20, 20x30, or 22x32.
All forms of two dimensional art are accepted, including, but not limited to: watercolor, graphic prints, acrylic, mixed media, oil pastel, drawing, photography, etc.
All artwork submitted must be completed upon submission.
Pastels, charcoal, or cray-pass must be fixed (or sealed) when submitted.
All entries must be labeled on the back with student name, school, and teacher name.  Please note orientation of the work.
The required online survey form must be completed no later than Friday, March 9, 2018: https://www.surveymonkey.com/r/AutryVisualArts2018
All artwork must arrive at the Autry no later than Friday, March 9, 2018.  Complete work can be dropped off at the Autry's Mary Pickford Education Center or mailed to:
Autry Museum of the American West
c/o Katherine Herman, Education Office
4700 Western Heritage Way
Los Angeles, CA 90027
By submitting his/her artwork, the artist assumes all risks and agrees to hold the Autry harmless against any and all losses, claims, or damages.
There is NO entry fee.
Awards
The Festival Board, in conjunction with Autry Education staff, will jury all entries. All selected entries are eligible for award recognition.
Images
(Click image for details)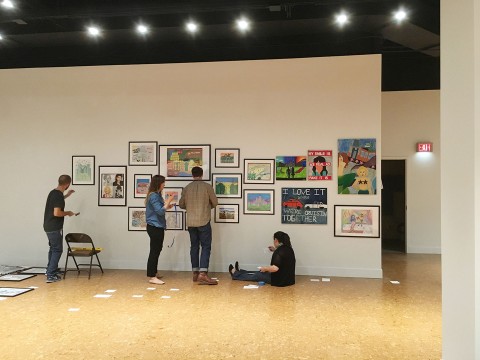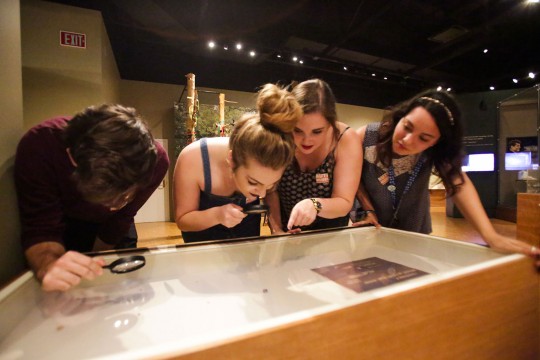 Educational Programs at the Autry are sponsored by:
The Ahmanson Foundation
The Albertsons Foundation
AltaMed
Capital Group Companies Foundation
Dwight Stuart Youth Fund
Edison International
Employees Community Fund of Boeing California
The Georgina-Fredrick Children's Foundation
Hearst Foundations
The Kenneth T. and Eileen L. Norris Foundation
Northrop Grumman
Ronald McDonald House Charities of Southern California
The Sheri and Les Biller Family Foundation
Sony Pictures Entertainment
Thelma Pearl Howard Foundation
Union Bank
U.S. Bank Foundation