The Autry Presents: The Best of Los Angeles Featuring Taylor Goldsmith
The debut performance of The Autry Presents: The Best of Los Angeles features songwriter, Taylor Goldsmith of L.A.'s hometown heroes, Dawes. Filmed on location in the Irene Helen Jones Parks Gallery of Art, the artwork in Goldsmith's performance features Bridges (1989) by James Doolin, as well as a basket made circa 1930 by Carrie Bethel (Northern Paiute). To learn more about Dawes' upcoming album release, Good Luck with Whatever, visit dawestheband.com. 
---
Video
Featured Objects
(Click image for details)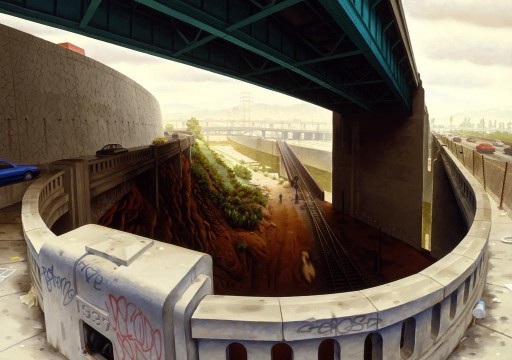 About the Featured Objects
James Doolin, Bridges, oil on canvas, 1989. Purchase with special thanks to Lauren Doolin McMillen. Autry Museum; T2018-2-1
Euro-American traditions of landscape art tend to work differently from those of Native peoples, often picturing the land from afar as a space to behold.
James Doolin carefully studied the landscape to create Bridges, spending a week at the off-ramp from the 110 Freeway to Interstate 5 in Los Angeles. Using principles that originated in European painting, Doolin designed an expansive vista in which a vast space is seen from a single vantagepoint. The small figure in the foreground – intended as a stand-in for the artist or viewer – also appears in many traditional landscape paintings. By applying these motifs to twentieth-century Los Angeles, Doolin refers to the power of historical images in shaping our modern experience of place.
---
Carrie Bethel (Mono Lake Paiute / Kucadikadi (Northern Paiute)), coiled basket, circa 1930, willow, split sedge root, dyed bracken fern, split winter redbud. Donated from the collection of Jackie and Gene Autry. Autry Museum; 2019.44.4
Many Native societies have used the land in a direct and physical way, creating striking and functional baskets, ceramics, and textiles that reflect an intimate and knowledgeable relationship with their environment. In northern California, Native peoples developed a sophisticated system for collecting, cooking, and storing food using baskets made from local plants gathered seasonally.
By the time Carrie Bethel created this ambitious work in the 1930s, baskets had become highly desirable as art objects. Four years in the making, this basket features a three-color symmetrical design and a complex organizational challenge.
About the Gallery
These two objects are on display in
Art of The West
. This exhibition explores three primary themes, Religion & Ritual, Land & Landscape, Migration & Movement, that have informed artistic creation across the West. In doing so, it examines how art forms, images, and their meanings are shaped by some of the many peoples who call the West home.
As Amy Scott, Art of the West author and Executive Vice President of Research and Interpretation and Marilyn B. and Calvin B. Gross Curator of Visual Arts, explains in her introduction, there is not one West; instead, many Wests, comprising diverse collections of places and peoples, form a "complex tapestry of ethnic mixing and geopolitical spaces, diaspora, immigration, industry, infrastructure, tourism, and environmental degradation." By addressing such provocative themes, Art of the West challenges us to look beyond surface appearances, superficial caricatures, and cultural assumptions. The American West emerges as a dynamic place in which memory informs, but does not determine, the present.
About the Series
Produced by Gia Hughes and filmed by Emmy-winning filmmaker Austin Straub, The Autry Presents: The Best of Los Angeles features 20+ minute sets by various L.A.-based artists. The musicians will perform alongside artwork and objects on display at the Autry including Bridges by James Doolin, War Music II by Mateo Romero, a Concord mail stagecoach, and many others.